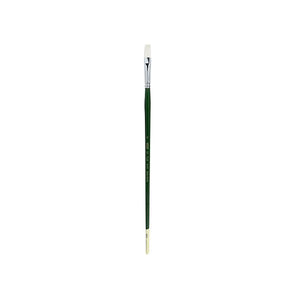 Neef 95 Stiff Synthetic Flat Brushes are perfect for acrylic painting particularly heavy body or structure paints.
They are also excellent with solvents and oil paints. The special synthetic fibres in the bristles resist hair loss and the resilient stiff bristles interlock to snap straight back into shape even when creating points or edges, offering the user precision and control.
Neef 95 Stiff Synthetic Flat Brushes can also hold a large amount of paint whilst still maintaining a firm line with each brush stroke.
The flat brush shape has a square end with medium to long hairs, is good for washes, filling in larger areas and creating bold strokes.
You can also achieve fine lines or straight edges with this brush.