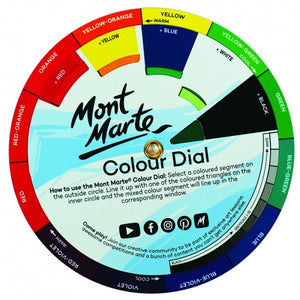 Understanding the colour wheel and colour theory is fundamental for any artist of any skill level. This Mont Marte Mini Colour Dial makes learning about colours and colour mixing a breeze - simply select your colour, line it up with another and see the colours you can make.
As well as helping you with colour choice and colour mixing, this dial teaches you about primary, secondary and tertiary colours as well as hues, values and intensity. This double-sided wheel features a colour mixing guide on one side and shows colour relationships and harmonious combinations on the reverse. 
Its mini size makes for compact storage or easy transport to and from school, work or the studio. 
Features:
Teaches you about colour theory and colour mixing

Helps with colour choice 

Mini size for compact storage and easy transport

Double-sided wheel with colour mixing guide on one side and colour relationships on the reverse